Jeanette Jimenez
Lead Dental Assistant
I've been with Dr. Shah for 11 yrs. I'm passionate about being part of a team that creates beautiful & healthy smiles. On my weekends I enjoy spending time with my beautiful children and family.
---
Natalie Rodriguez
Dental Assistant
I'm on a mission of becoming & doing great things in life. What a great way by starting this journey is by helping everyone achieve a great smile! On the weekends I love to go shopping, spend time with my family and friends. Most of all I love going to Church and praise the God.
---
Melody Magdesian
Hygienist
I'm originally from Boston, MA. I moved to California after getting married a couple of years ago. Love Cali weather! I went to MCPHS University and received my B.S. in Pre-Med, BS in Dental Hygiene & Masters in Public Health. The best part of my job is making patients feel confident in their smiles.
---
Blanca Valencia
Office Coordinator
I love spending time with my family trying out new foods, exploring places & new cultures. I've worked over 14 years. Taking care of patients brings me satisfaction to see them fully restored and loving their new smiles.
---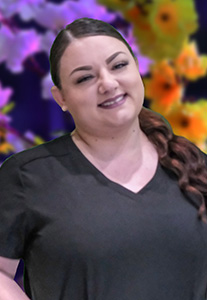 Cassandra Gioffredi
Front Office
On my spare time, I enjoy cooking & trying new recipes. I like playing with my husky border collie named Koda. She is very active and loves her walks & playing outside. My philosophy is "Be yourself, everyone else is already taken"